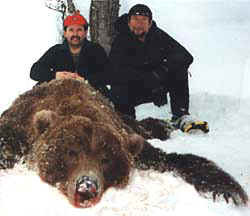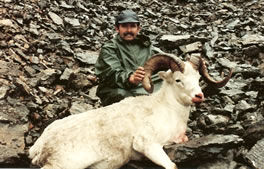 I hold Alaska Master Guide license #147 and have conducted well over 200 guided hunts for moose, brown/grizzly bear, dall sheep and/or caribou since receiving my registered guide license in 1986.
Brown Bear , Grizzly Bear ,
Moose
and
Dall Sheep
are our specialties, with reasonable opportunities for black bear, wolf and even wolverine. We achieve consistently high success and trophy quality.

 We conduct most of our hunts in our 600 plus square mile "Sole Use" (this means I'm the only guide that can operate here) Guide Concession in Denali Preserve, near Mt. Denali. My concession is located in the heart of the Alaska Range in some of the most spectacular scenery on the planet. I've been guiding in this area since 1986, and my current concession contract continues through 2027.

We hunt in remote areas and receive minimal competition from other hunters.

My concession was expanded in 2007 to include parts that had been off limits to guiding for 18 years! Since the disappearance of Guide Areas in 1988, most areas on state land are receiving heavy guiding pressure. This "sole use" concession will help ensure a quality hunting experience.

We run a small, full service operation and seldom take more than two hunts at once, or more than 10-12 per year. We work hard to personalize our hunts to match the client's preferences, abilities and expectations. We can offer excellent hunting at varying levels of difficulty and in a wide variety of situations.

Safety – Alaskan terrain, weather conditions, and game can be very challenging, yet no past client has ever received injuries more serious than scratches, blisters, or sore muscles.

We own our own bush-equipped aircraft.  I've lived full time in Alaska since 1976, and have almost 7000 hours of bush flying experience.

 I actively participate in every hunt myself.