Too Much Fun!
An Alaska Moose Hunting Adventure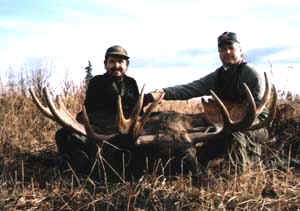 While flying west towards the Alaska Range, Bennie and myself pretty much agreed that we had again made a substantial error in our last-minute moose hunting plans. Ben's flight into Anchorage after a 3 week work shift on the "North Slope", arrived at 2:30 p.m. on Friday, September 24th. Ben made the hour plus drive to his home near Wasilla, changed clothes, packed and met me at my house. By 4:30 we were airborne!
We had good flying weather and enough daylight remaining to look the strip over good before landing, and to set up camp before dark. Our oversight was not allowing enough time for Ben to say goodbye to his wife "in person." The quick "Hi" and "Goodbye" over the phone just didn't "cut it"! We hoped to minimize our mistake by achieving early success and returning home before a major weather system moved in.
Shortly after daybreak on Saturday, we walked to a small hill 500 yards from camp to do some calling. Ben crouched in tall grass and kept watch, while I walked to some spruce trees 50 yards away to rake brush and make a few bull grunts. I wanted to sound like a group of moose, so after a few minutes I moved 20 to 30 feet further along the brush line and made a few 10 second cow calls, before walking back to the hill. Within minutes, two small bulls approached from opposite directions and converged upon the exact spot that I had called and thrashed from. Both animals hung around for several minutes, but left when they couldn't find the female company they had been searching for.
We stayed on the hill, hopeful that a large bull would respond to our calls, but retreated back to the tent after a snow squall moved in and the wind increased to 25 miles per hour. We stayed in camp and took turns keeping watch from a nearby tree. Every few hours, we would rake brush and break dry sticks at a location about 100 feet from the tent.
Moose are most active at night and when hunters call at day break, moose are often already bedded down. Unless they are really close, or rut crazed, I have found that bulls will usually approach near last light that day, while looking for social contacts for the coming evening, even if it has been several hours since your last calling routine. Also, they will often come in during the night, and will stay in the area. We had seen nothing on Saturday evening, but were still hopeful that a big bull would be nearby in the morning.
Early Sunday, I climbed the tree near camp while Ben stood next to our tent and made a few cow calls. Within 5 minutes, I spotted a large bull with two cows near the location we had called from the previous morning. The bull was already being adequately entertained where he was and wouldn't leave, so we tried going to him.
Big bulls hear especially well because their antler mass helps to draw in sound, and we were still over 200 yards away when he became alert to our presence. I could have taken him from where we were, but this was my own hunt and we weren't under the pressure to "produce" as is often the case when guiding. Though it was riskier than taking the shot offered, I decided to try to move forward for a closer look and a better shot. All was going well until a brief wind shift allowed the animals to catch our scent, causing them to flee. It was only 9:00 a.m., so we followed them a short distance into the brush and did some "thrashing" and "bull grunts" before going to our lookout on the hill 80 yards away.
Almost immediately, we started hearing distant bull grunts, and 10 minutes later, a large bull broke into the open 100 yards away! We were having fun and I wasn't ready to have it end yet. Instead of shooting him where he stood, we decided to try to get him to follow us closer towards camp.
The bull was focused on the spot we had called from and hadn't seen us, so we stayed out of sight and retreated to some spruce trees that were halfway between us and camp, where we did more thrashing and bull grunts.
While I raked brush and slowly continued my retreat towards camp, Ben headed there directly and made some cow calls by the tent, then climbed the nearby tree to see if our plan was working. With the steady UGH! UGH! UGH! sounds I was hearing, I knew the bull was getting close but still couldn't see him. From his perch in the tree, Bennie had an excellent view of all that was happening and started getting pretty dramatic with his hand signals about where the bull was and that I should get myself over there – NOW!
I climbed a slight rise to the left and found myself facing the bull from a distance of 25 yards. I waited for him to turn sideways, and one hour after we first saw him 500 yards from camp, a Nosler bullet from my 7mm Remington mag. dropped him 50 yards from the end of the runway! He had an antler spread of 65 and 1/2 inches!
We butchered him together, and by the time I prepared the plane and taxied down the runway, Ben had all the meat waiting for me. The weather remained flyable, and by Sunday night — just over 48 hours later — we were back home in Wasilla with all of the meat and our gear! Ben and I don't get to hunt together as often as we used to, and this was one of those rare hunts where almost everything went perfect. My numerous thoughts after several months of reflecting on this hunt, can best be summarized by saying that I just had "too much fun"!