Be sure to check our "Hunt Specials" page (click the flashing red button to the left) for information on Bear Hunt, Moose Hunt and Sheep Hunt Cancellations and Discounted hunts!
I took my first Alaska Brown Bear on the morning of April 8th, 1986.  (A picture of my first bear can be seen at   https://alaskaremote.com/about_us  The solid "smack" of the bullet hitting home and the adrenalin rush afterwards is something I'll never forget!!  Since then, I've helped numerous clients to also experience the excitement and thrill of hunting and harvesting an Alaska Brown or Grizzly Bear.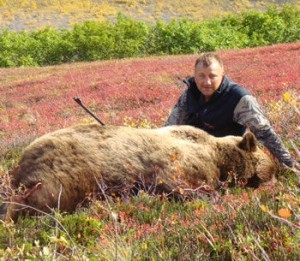 Fall Bear Hunting at its Best!
We offer some fantastic fall hunting for Brown & Grizzly bears.  Most of our bear hunts take place in our "Sole Use" (I'm the only guide that can legally operate here) guide concession in Denali Preserve, near Mt. Denali.  My concession encompasses about 600 square miles, and includes some prime fish streams and denning areas that were off limits to guided non resident hunters for 20 years!!!.
This major portion has a two bear per regulatory year bag limit!!
80-90% of my concession is in Game Management Unit (GMU) 16B, and bears are classified as brown bears by Boone and Crockett and Safari Club International.  I've taken a number of bears on spring hunts in this area that squared from 8'6" to 9'11" with skulls ranging from 24" to 27 & 9/16th" .  The remaining portion is in GMU 19, where bears are classified as grizzlies, the bag limit is one per year, and the season starts September 1st. We do most of our fall bear hunting along salmon streams in game management unit 16B.  Fall bear hunts, as a general rule, aren't overly strenuous, but patience, persistence, and being in the best physical condition possible, will only increase your chances for success and increased trophy size.
Hunt Prices and Specifics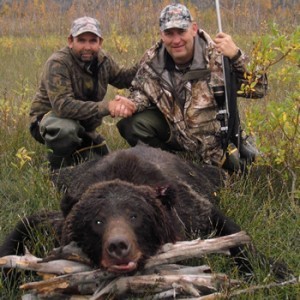 We conduct most of our single specie bear hunts during August and September, but also offer great hunts in May and June, and can usually provide flexibility to clients who can't come during regular seasons.  Contact us if regular seasons don't work for you.
Prices start at $18,000.00 for a 9-Day 1 x 1 hunt  for one brown bear + $8000.00 trophy fee if you take a 2nd brown bear – FREE incidental black bear/ wolf or wolverine
This price covers most of your basic expenses between Anchorage and the field, to include: necessary ground transportation to pick up and return you to Anchorage, food, lodging, and trophy care in the field.   Trip length includes in and out days.  Clients should try to arrive a day or two early and leave a day or two later than actual trip dates.  When possible, we try to get clients that achieve early success, out early if they wish.
NOT INCLUDED: $1000.00 round trip air charter to and from the field, round trip transportation of you and your gear, game and trophies between your home and Anchorage, lodging in Anchorage and /or Wasilla prior to and after your hunt, taxidermy, guide tips, licenses and tags (non-resident hunting license = $160.00, brown/grizzly tag = $1000.00, black bear tag = $450.00 – see "License and Tag Fees" link for complete information), or a $150.00 2 yr. membership in the Hunter Preservation Fund (HPF) http://alaskaprohunter.org/hpf.html We will gladly assist you in making arrangements and reservations, and can sell you the tags ourselves.
DATES: August and September.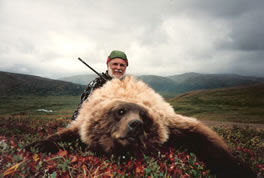 2ND BROWN BEAR HUNT OPTION: Most of my concession has a two brown bear per regulatory year bag limit.  If taking a 2nd brown bear interests you, we can usually arrange it on a straight or modified trophy fee basis.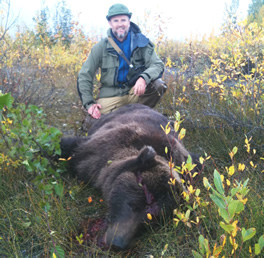 Straight Trophy Fee for 2nd Brown Bear – When time, weather and resources permit, if you've purchased an extra tag, we don't mind hanging around a few extra days in the same area to try to get you a 2nd bear.  If you have success, the trophy fee for a 2nd fall brown bear is $8000.00.
Modified Trophy Fee for 2nd Brown Bear – When you take your main animal on a single species hunt, we consider that we've earned our money, and we don't like to spin our wheels on an add-on hunt that we don't get paid for if a really bad stretch of weather is coming that could make us miss our scheduled flight and negatively impact following hunts, conditions are such that chances just are not good, or if something else significant and unexpected comes up.  Also, some hunters in the past have just plain missed after we've done every thing right.  But if things look good, and you have a lot of time left and want to actively pursue a 2nd Brown Bear, we'll try to accommodate you.  I give the guide a bonus and I get something extra if we produce, so we have incentive to work hard for you.
Relocations: When relocations are necessary, we collect $3500.00 up front to continue and you'll pay an additional $4500.00 if you take a 2nd brown bear.  I'm a license vendor and in some cases, I can sell you additional tags in the field, but in most cases you'll need to purchase the tag in advance.   If we have to relocate via air charter, there may be an additional air charter fee.
INCIDENTAL SPECIES: Black Bear, wolf and wolverine can be hunted on an incidental basis contingent upon open seasons.  "Incidental" means that we don't move to or specifically hunt for them, but if we run across one and can take it without messing up your brown bear hunt, you can.  You must purchase any necessary tags in advance. Wolf tags aren't required by non residents in my concession area.  A black bear tag will work for either black bear or wolverine.
ADDING DAYS AND/OR AN EXTRA GUIDE – We will do everything possible to try to customize your hunt to meet your expectations.  Extra days and/or an extra guide are just two options on how we can adapt your hunt towards higher success and trophy quality and/or multiple species.  Let us know if either of these options interest you.
ADDITIONAL BEAR HUNT INFORMATION
We generally see a lot more bears while hunting along salmon streams in the fall, than on our spring hunts.  We access these locations by light weight jet boats, rafts, and/or air plane spike camps. Bears in the 7½ to 8' range usually aren't overly hard to come by.
The big ones are still there and can be taken with persistence and patience.  The scenery, which includes several of the tallest peaks in North America, provides an awesome visual experience.  The two bear bag limit, allows you the option of taking a larger bear on a trophy fee basis, if you've already taken a medium bear – you would have to buy a tag in advance.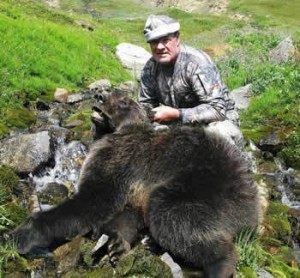 The exception to hunting fall bears along fish streams, is that grizzly hunting can often be very good in higher elevation sheep country, where bears are actively feeding on berries.  Grizzlies can be a great add on hunt if you get your ram early – or even if you see a good one first – when time, weather and resources permit.  "Berry bears" that hang at higher elevations often have greater color variations from silver tip to very blond, and make spectacular trophies.
NOTE: A person who has been airborne may not take or assist in taking big game until after 3:00 a.m. following the day in which the flight occurred.  For this reason we most often use rafts or jet boats to hunt small fish streams, because we can relocate whenever necessary without losing hunting time.
We'll work hard to give you a good hunt.  We hunt remote areas and there are no private land Bear Huntholdings, roads or established trails inside my concession.  Hunts will be conducted from base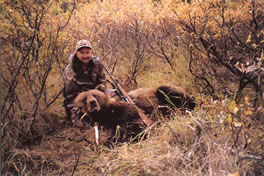 and/or mobile camps with expedition grade tents and equipment.  Meals can vary greatly depending on the trip and can range from cots to only ground pads.  Food can vary from only freeze dried all the way up to include canned, frozen and fresh.  Boat hunts generally offer better accommodations and food than do float trips and airplane spike camps, because we don't have to carry everything on our back.  "Leave No Trace" camping practices are required by the National Park Service.