Maybe cats aren't the only ones with nine lives.
Almost every hunting client we have had in our home in the last 8 years has met and will remember Silver, a 15-pound silky terrier that is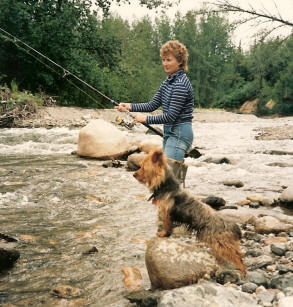 my wife's self-designated protector.
He is seldom more than a few feet from her side at any one time, whether outdoors or inside, perhaps out of gratitude for Marilyn coming to his rescue when she purchased him from the dog pound in 1986.
He often accompanies us on fly-in trips and defiantly protests whenever he is left behind.
During his 8 years in our home, Silver has logged more hours in a plane than many pilots.
Our dog welcomes guests gleefully with loud, shrill barks and plenty of prancing. But if they are still awake after 10 p.m. (his bedtime) they get nipped-at every time they take a step. This especially includes me when I enter the bedroom at a later time than Marilyn.
Silver and I have had many fierce late-night confrontations. But, I seem to always end up the loser, even though I have saved his life on more than one occasion. His elevated opinion of how tough he is often gets him into more trouble than he can handle.
In July 1988, Marilyn had to travel to Michigan to visit her father who was ill. While chaperoning Silver during her absence, late one evening I loaded him into the rear of our Super Cub for some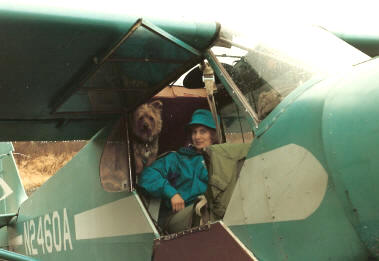 touch-and-goes to polish my skills for the rapidly approaching fall hunting season.
When I was 300 to 400 feet above ground and starting a climbing left turn for the crosswind leg of Wasilla's traffic pattern, I heard a banging noise and realized that I had closed the plane door with my rear seat belt on the outside of the plane. The belt was whipping the side and could have damaged the fabric and paint.
Super Cubs have a two-piece door– the bottom half swings down and the top half swings up. To close the door requires both hands, especially when trying to do it while airborne.
I briefly removed both hands from the controls, and tried to open the doors just enough to bring in the seat belt with hopes of being able to immediately close both portals.
I did get the seat belt inside, but was unable to latch the doors.
My plane wasn't properly trimmed for level flight and as soon as I removed my hands from the controls, the plane started to dive.
I let go of the doors causing them both to swing open, then put my hands back on the controls.

He's outta here
During the process of trimming the airplane for level flight, I noticed out of the corner of my eye that Silver didn't like the wind and was spinning around in circles in the back seat.
During all of his plane rides, he must never have figured out that we weren't still on the ground, because when I took a second backward glance, Silver was on his way out the door.
Fortunately, he figured it out real fast when he saw how far down it was, and at the very last instant, hooked the last 2 inches of his right hind leg around the rear door jamb.
As long as I live, I will never forget the picture of him totally outside the plane, wind in his fur, both front feet pointed straight out like Superman, and holding on by one foot.

Reflexes come alive
Friends who know how much Marilyn cares for her dog will understand me when I say that Silver's life wasn't the only one balanced in space at that moment.
The rear door jamb in a Super Cub is about 4 feet behind the pilot's seat, so even when I had the plane trimmed so it would fly hands off, I still couldn't reach back to help Silver because I was tightly confined by my seat belt and shoulder harness.
I loosened them both, turned around in the seat and was able to reach far enough back to grab Silver and pull him inside.
Remember that the doors were still open and I was still in a partial turn. With Silver back inside, and the airplane flying level, I was finally able to close both doors and we landed immediately.

Safe and sound
I cancelled all previous plans for additional touch-and-goes for that evening.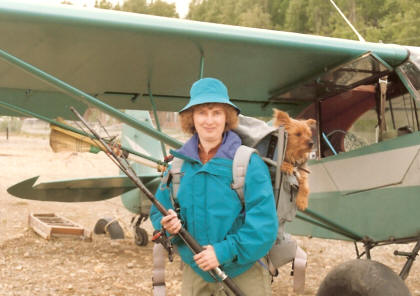 I suppose I will never know how long Silver actually was outside the plane. At the time it seemed like an eternity, but I suspect it was between 1 and 3 minutes.
When I pulled to a stop at my tie-down spot, cut the engine and opened the door, Silver appeared to pause briefly and look first before he jumped.
He still accompanies us on fly-in trips, but does not seem to be as anxious to hop in the plane. Marilyn now keeps his eyes covered during flight so he can't look down or he will start to shake. He still insists on coming, however, so that he can guard his mistress.
Wayne Kubat