Description
What Is It?
The "Bull Magnet" Moose Call Guide Model is a durable, made in Alaska, fiberglass megaphone that serves five useful functions to moose callers and/or hunters;
1. Amplifies and gives a nasal quality to human made bull grunts and cow calls.

2. Draws in Sounds. Putting the small end to your ear and pointing the large end in the direction you wish to listen will greatly increase your ability to hear moose responding and coming in to your calls.
3. When raked against brush or struck against sticks or dry limbs, the "Bull Magnet" produces an identical sound to that made when bulls scrape velvet off their antlers or fight.

4. Natural colored "Bull Magnets" even look and "Flash" like moose antlers and serve as a visual aid when approaching moose.

5. When hunting near lakes and ponds, you can scoop and drain water with the "Bull Magnet" to imitate a cow urinating.
The Guide Model is about 20% smaller for easier packing in remote applications, but are still very durable & deliver the same great sound. Always use extreme caution when calling moose!
Approximate Size: 13" long 7-8"max. diameter
Approximate Weight: 16 ounces
Complete moose calling instructions and demonstrations are contained in both editions of "Love, Thunder & Bull in Alaska"
Testimonials: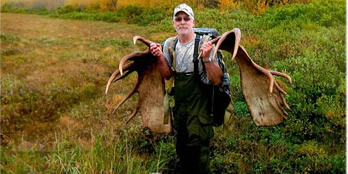 Wayne,
I killed this moose in the fall of 2010.Three friends and I spent 8 days on an unguided hunt south of King Salmon, Alaska. I used your call, thrashing a tree. I was the only one of the four with a call and the only one to get a moose. He was an SCI silver medal. Thanks, Jonathan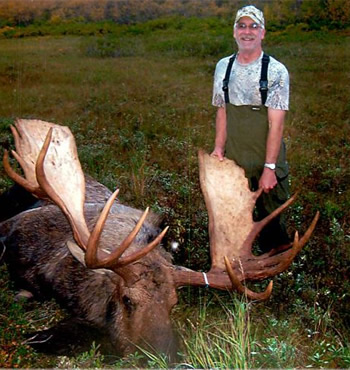 Moose Call Demonstrations
 
The Original Bull Magnet Moose Call…