Terms and Conditions for Our Alaska Hunting Adventures
RESERVATIONS: A 50% deposit is required to reserve your adventure date with the final payment due 60 -90 days prior to arrival. Payment should be made by traveler's checks, certified bank check, or money order. A 1/3 deposit is acceptable for trips booked a year in advance, with another 1/3 due by January 15th for Fall hunts, and by November 1 for Spring Bear Hunts. Deposits are non-refundable unless space can be rebooked.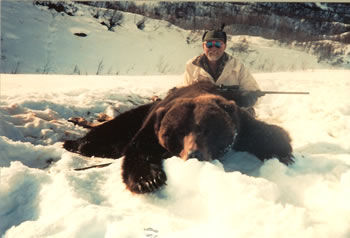 RESPONSIBILITY: Alaska Remote Guide Service is not responsible or liable for damage, injury, or loss to persons or property however caused, or for cancellations, delay, or expense due to weather, transportation problems, or other conditions over which we have no control. Clients are responsible to inform us of limitations or special needs which may affect their trip. We reserve the right to cancel or make reasonable schedule changes to insure trip quality and client safety. Upon receiving your deposit, we'll send you a receipt, a contract, a hunter orientation and medical Questionnaire document, a suggested equipment and clothing list, and additional information that we think you will find to be valuable.
The Alaska Professional Hunter's Association (APHA) "Non Resident Hunter Preservation Fund" (NRHPF) – "APHA" is Alaska's Professional Guide-Outfitter Association, and has created this fund to preserve non resident hunting opportunity in Alaska. They require all professional members to collect $150.00 from each client, payable to APHA for this fund. Learn about the many benefits clients receive by paying this fee @: http://alaskaprohunter.org/NRHPF.html
We encourage clients to include a separate check for $150.00 payable to "APHA" for the "NRHPF", when they send their hunt balance, or send it with your deposit if you prefer.
New Hunting License Compact Signed by the State of Alaska: The state of Alaska has recently signed a pact with several other states on revoked or suspended hunting licenses. A revoked or suspended license in some other state may prevent you from hunting in Alaska. According to the Alaska Dept. of Public Safety, if while in the field, a guide-outfitter learns that a client has had a hunting license revoked, the hunt needs to be immediately suspended.
MOST HUNT PRICES INCLUDE: Round trip air charter to and from base camp that usually costs $1000.00 or more with most other outfitters! We also cover most of your basic expenses between Anchorage and the field, to include: necessary ground transportation to pick up and return you to Anchorage, and food, lodging, and trophy care in the field
NOT INCLUDED: Round trip transportation of you and your gear, game and trophies between your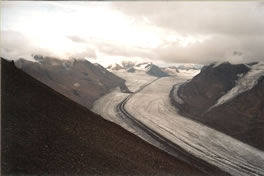 Dall Sheep Hunthome and Anchorage, lodging in Anchorage and/or Wasilla prior to and after your hunt, taxidermy, guide tips or licenses and tags (non-resident hunting license = $85.00, brown/grizzly tag = $500.00, $425.00 sheep tag, $400.00 moose tag, black bear tag = $225.00 – see "License and Tag Fees" link for complete information), and a 2 yr. membership in the Non Resident Hunter Preservation Fund ($150.00).
http://alaskaprohunter.org/NRHPF.html
We will gladly assist you in making arrangements and reservations, and can sell you the tags ourselves.
NOTE: A person who has been airborne may not take or assist in taking big game until after 3:00 a.m. following the day in which the flight occurred. For this reason, clients should arrive in Anchorage 1-2 days early, so that we can fly you to camp the day before your hunt starts (weather permitting). ARGS will make all transportation arrangements between Anchorage and the hunting camp. We can usually get clients who finish early, out sooner if they wish, other wise hunts end on the last day of the trip length.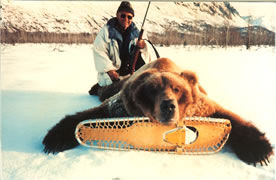 Non hunting companions – Some of our hunts are conducive to non hunting companions and some aren't. Generally speaking moose hunts are the most accommodating and river boat hunts for bear and mountain hunts for sheep and grizzly aren't. We'll advise you on a case by case basis.
10% discount on guided hunting trips for 1×2 guide ratio vs. 1×1, which is our standard. 1×2 hunts are not recommended unless both hunters are in good shape and hunt well together.
Deviations and additions to the above trips will be considered in order to give you a trip that will meet your needs.